ARCHIVES OF PIANOFORTE MAKERS
(Page updated January 2021)
ACTIONS – ALIASES - ANCESTORS - ARCHIVES - AWARDS - BLOG - DATEMARKS –
DEMOS – DIAGRAMS – DONATIONS – DRY HEAT DAMAGE - EDWARDIAN - EXHIBITION –
FALSENESS - GENEALOGY – GEORGIAN – GRAND - HEALTH – INVENTOR - KEYS –
MEDALS - MEMORIES - NAMES – NUMBERS – OCTAVES - PIANINOS - QUERPIANOS
REPERTOIRE – SQUARES – STENCILS – TUNING – UPRIGHT - VICTORIAN – WRESTPIN TORQUE
Because so many existing firms have lost their original archive material, one result of this is that they are sometimes quoting information from websites and textbooks, pretending it is theirs, without knowing if the information is accurate.  Some years ago, I thought I was being kind in offered my estimates of serial number dates to a company who had lost their archives.  Years later, they denied losing the information, then quoted my own estimates of dates of their serial numbers back to me, claiming them to be their own!
Most piano firms have no surviving archives, but Ibach are said to have a comprehensive archive that can be accessed for a small fee, to certify where an Ibach piano was built, who bought it and when, for how much.  As far as we are aware, Broadwoods are the only major British maker whose archives are available for reference, at the Surrey History Centre, and provide you with genuine, original information about your piano, but a fairly small amount.  When I checked a few years ago, researchers could go independently at their own expense (£7.75 per day), or ask the centre to quote for doing the work for them (£34.40 per hour), or go through Broadwoods (£60).  (Prices may have increased.)  Alastair Laurence says "The fee pays for a thorough search throughout the Broadwood volumes at Surrey Archives, which usually takes at least one hour for each number searched.  The archives often give the day, month and year when the piano was finished at the factory, the name and address of the first purchaser, the selling price, and may include interesting technical information.  The Broadwood archives also give the method of transportation of any sold piano (road, rail or sea) and even the name of the ship if an export order is involved.  Finally, the archive will often have further references to any particular instrument if that same instrument is hired, moved, brought in for repair etc., or taken in part exchange." 
Often, the fact that a piano was delivered to a certain address is only of passing interest, but there was an instance in the Erard archives which showed that a piano was delivered to a particular position in a particular room in the 1830s.  Jay Mallory tells me that that piano was still in the same position in recent years.  I also heard of an 1844 piano which has remained in the same room ever since, but some pianos travel surprising distances, not only sold in foreign countries, but moved around the world.  I recently tuned an American piano that was sold at some time in Johannesburg, but is now in Lincolnshire.
Every day, we supply unique information to help enquiries from around the world, and although piano history may be a minority interest, a minority in the whole world is a lot!  We function as an archive, and what separates us from some other archives is that our information is used regularly, and is constantly in the process of being catalogued and edited, within the limitations of our lack of funding.  A subject that comes up with some regularity in these pages is the appalling rate at which history (pianos or otherwise) is being lost.  On the one hand, we see groups of people studying ancient civilizations, often making great strides in the furtherance of our knowledge about the distant past, but on the other hand, looking back just three hundred years, there is a continuing feeling that "nobody will want to know" about this or that piece of paperwork or information.  We sometimes experience the same negativity in trying to raise support for our collection, and whereas some people (like our visitors from Radio 3) were stunned at seeing "so much history in the room", others who have no interest in history cannot grasp the concept that…
VALUE IS NOT ALWAYS ABOUT MONEY!
Only a handful of the world's makers have the original archive material to tell us who the first purchaser was, or when the piano was made, so we often have to rely on looking for clues inside the piano.  Sadly, the following items give all too true a picture of the tragic loss of piano history, and a lot of our work, unique in the world, involves trying to piece together what we can about that majority of makers, whose archives are lost, so that we can help people with information about their antique pianos.  The archives of my first employers probably still exist, but the last I heard, they were mouldering away in a damp garage, where nobody could see them.  Perhaps we will locate more stock records of Victorian dealers eventually, we have later items, but because of limited funding, we have to treat the oldest items as priority.  Most of the famous British piano names have now been bought up by foreign companies, and although we are in touch with various descendants of piano makers, the whereabouts of most of the archive material (if it still exists) is unknown.  When a company changes hands, the records are often not passed on.
ROYAL ARCHIVES, WINDSOR
A single sentence from an old document can sometimes provide vital clues about piano history, and we are always looking for less obvious archive sources where historical records might include unexpected references to pianos.  Some years ago, I approached the royal households, as one of a number of sources that might have some early piano history filed away, but it was beyond my wildest expectations when Her Majesty personally gave permission for me to use information from the Royal Bills (1786-1826) at the Royal Archives at Windsor, referring to pianofortes, as part of my research on Royal piano makers.  We are not permitted to publish the images themselves, but they provide a wealth of information.  Our active research is aimed at antique British pianos, and anything else that turns up is a matter of luck, so we do not normally deal with modern pianos, player pianos, organs, harpsichords or clavichords, but we try not to discard any kind of piano information, and we have lots of general history in Victorian books as well, so if you are researching Victorian history, get in touch.  We have provided piano advice to television programmes such as "Pebble Mill", "The One Show"  and "Who do you think you are", the Financial Times, plays and documentaries, as well as the interview with Radio 3, and I offer lectures on piano history to Women's Institutes, colleges, museums, schools, etc..  There is a temptation to worry that my passion could be boring for others, but I am always surprised at the enthusiasm of so many people to learn more about pianos, and impressed by the depth of their questions.

Even if we have evidence of the original purchase, there is no way of tracing the life history of every piano after its sale, through to the present day.  After all, when one buys a piano, there is no license or logbook to record who its previous owners were, or where it lived:  There could be an exciting historical piece in my street and I wouldn't necessarily have any way of knowing.  Do please be wary of people who make claims about a piano being "one of only four that survive", or make other similar sweeping claims that cannot possibly be proven without visiting every house in the world.  Four is a popular number for these myths, and the internet does not have all the answers. 
Someone, in a little village somewhere in Italy, could be using an original Cristofori as a workbench, or eating their breakfast off it, and the internet would not necessarily know.
Can anyone tell me what happened to the archives of the Foreign Catalogue Library?  These included piano catalogues, and it would be a huge source of piano history if I could find it.
A lot of my time goes on a branch of the visual arts, restoring or reconstructing old illustrations, and making them clearer and more presentable for display for our burgeoning time-line.  I came across an unusual problem when I found these 6 rare illustrations of Robert William Hume's designs for Piano Fortes on the website of the Metropolitan Museum, New York, www.metmuseum.org - perhaps from around 1837.  These were very messy, separate, unrestored drawings, and I wanted to enhance them and bring them together here, but the Met didn't know what to do when I asked permission to use my enhanced, edited, coloured versions of their pictures, and asked them about a fee.  All they could say was that this picture does not appear on their website.  Well, of course it doesn't!  Vague copyright advice seems to suggest that, as with sheet music, my version of the artwork is my own "intellectual property", and not subject to the same restrictions that would apply if I published the originals directly.  Certainly, the response from the Patents Office has backed up that idea.  If anyone has any better advice for me, please email.
The same situation has arisen several times since then, and I think the picture above is a rare and important snapshot of piano history.  With so many websites pinching material, I don't think they know how to handle honesty.  Unfortunately, several sources have carefully ducked the issue and avoided answering the question of copyright on what, after all, are not their original pictures.
A book was published about the Broadwood archives in 2006, and they had an exhibit (along with our own PianoHistory.Info room) at an Archives Day at Finchcocks, Kent in 2006.  It seemed a strange situation, because although Broadwoods had genuine, original archive material, our muniments were probably the best hope for the majority of people with any other British pianos.  It was also interesting to note how many references in the talk about Broadwoods tied in with items which just happened to be there in our own displays.
DATE ESTABLISHED
One of the stumbling blocks in researching the history of a piano firm is that very often, the year they say they were established is completely misleading, often referring to some previous firm that they took over.  Sometimes, the date seems to be complete fiction, for example D'Almaine claimed to have been established in 1780, when he was only a year old.  This is presumed to refer to his late partner Goulding.  W.H.Barnes claimed to have been established in London, 1828, but we have found no record of a piano or music firm until 1897.  Collard & Collard claimed to have been established in 1760, but they did not exist then, and the date is even too early for their predecessors, Longman & Broderip.
History is not an exact science, and many books and websites have published conflicting statements about Broadwood's firm, their manufacture of pianos, and the dates of their serial numbers. I am only just beginning to try to sort out the muddle. Apparently, Broadwood was not born until 1732, yet he claimed to have been established in 1728, (now altered to 1732) but that was his predecessor Tschudi, who was not making pianos then, in fact he seems to have avoided pianos altogether, and Broadwood did not sell any pianos until Tschudi died in 1773. In 1774, Broadwood is said to have made a copy of one of Zumpe's querpianos, but this does not appear in Broadwoods' archives, and according to research by Michael Cole, the archives do not show ANY piano-making until 1780. "Broadwood" pianos before that date must have been made for them by someone else, perhaps Beck or Ganer.
MOTT'S ROYAL GRAND
When it comes to piano history, few stories can top the research I was doing about the Victorian royal piano maker, Isaac Henry Robert Mott, whose instruments can be found in Buckingham Palace and the Royal Pavilion, Brighton, as well as St.Fagans National Museum of History, Wales:  eventually, I spoke to someone who had just missed SIX SACKS of information about Mott, which were sent to the dump because "nobody will want them"!  In view of this, it seems unlikely that any archive material for Mott will ever be found again. 
I drew the picture because the photo I had wasn't clear enough, and some people kindly said how wonderfully I had drawn all the decorative work.  Sorry, but they are just artistic but random squiggles! 
The Army & Navy Stores very kindly let me do some research in their archives before they closed, but it is so difficult to find early stock records from Victorian retailers, and the most complete pre-1900 ones I have ever found in half a century of research is Rudall's of the 1870s, kindly supplied by Robert Bigio.  These include references to Rudall & Rose, Rudall Rose & Carte, and Rudall Carte & Co..

Other stock books must exist, but we have found very few. and they hold so much useful information about names, dates of numbers, time held in stock, prices, profit margins, technical terms, keyboard range, etc. that the Rudall list is often useful to us.  You'd think it was a matter of official secrets, because even shops I used to work for wouldn't let us look through their old stock books, and some went out of business, taking their archive material with them.  Of course, the ones that would be safer from a Data Protection point of view are also the most interesting ones, pre-1900.
MUNT BROTHERS
In the absence of proper archives, it is often possible to piece together useful information from old photos and paperwork, so I was delighted to hear from several descendants of the family about Munt's factory and shops, and I am grateful for the photos and information they so kindly supplied.  Edward Munt is thought to have been a pianoforte maker before the firm of Munt Brothers began, but we have no trace of him being in business in his own name, so it seems likely that he was employed at a factory.  There is a Munt piano near us, but its interior was written off, and it now houses an electronic keyboard within its antique shell.  Bearing in mind how good Yamaha's slim digital pianos are now, this has to be a better solution than scrapping history.
Information can sometimes go round in circles and come back again, like a boomerang.  In 1972, I wrote to Collard & Collard Ltd. at an address which I knew to be that of Chappell & Co..  They were unable to help me with any information, having lost their archives in the 1964 fire, so they passed on my enquiry to the late Frank Holland at the Musical Museum.  He followed his normal procedure, and PASSED IT ON TO ME to answer!  (Good ol' Frank, bless 'im!)  In 1959, Collard's archives still existed, and they could quote details about the dates of numbers etc.. 
I would love to hear from anyone who has any examples of any of that information.
In the course of their long history, Chappells took over several other piano names, but all their historical records were lost in the fire.  Since that time, we have collected more information on the Collard lineage than any other make, and probably more than anyone else has, although there are many unanswered questions about their various number sequences.  See our Numbers page for details…
http://www.pianohistory.info/numbers.html
Another example of this boomerang effect is that one day, Stephen Kirkman sent me a copy of a letter written by Kirkmans to Alfred Laurence in 1866.  I took the rather stark monochrome photocopy, gave it more of the character of an old document, made it fit the page better, then sent it to Alastair Laurence because it featured his ancestor.  He told me that it was he who sent it to Stephen in the first place!
Fires figure heavily in piano history, and when Birdingbury Hall burned down in 1859, one of the treasured possessions lined up on the lawn was a piano.  Insurance companies made special maps to show places with a high risk of fire, and piano factories were one of the worst, because of the huge quantities of timber and other inflammable materials they stored.

Whiteleys closed without answering my request for information.  Crane & Sons were unable to provide archive material.  Bearmans of Leytonstone "would willingly have helped, had there been anything of interest" left on file.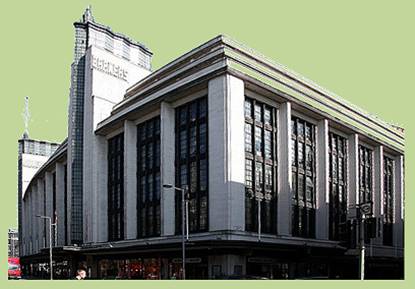 Barkers of Kensington didn't return my two stamped addressed reply cards before they closed.  When I heard on the radio that Wilson Peck were "closing their doors for ever" in March 2001, I phoned them to ask about historical information.  They said they had no archives, and no paperwork about their pianos. 

Duck, Son & Pinker, in Bath, used to have some archive material and stock records, and now they have closed, this material is stored at Bath Archives.  The firm was begun in 1848 by William Duck, and they became Duck, Son & Pinker in 1878. 
I was, to say the least, perturbed when a lady phoned to say that Steinways were unable to help her with a historical enquiry because they had destroyed all their London records!  I can only hope that this proves to have been some kind of misunderstanding, and all that irreplaceable information hasn't ended up as SHREDDER- FODDER!  Please don't destroy piano history, let us preserve it!
Boosey & Hawkes are famous as musical instrument makers, but they have no record of the fact that when they were Boosey & Co., they claimed to be pianoforte makers, "Manufacturers of the Miniature Pianoforte".  The Horniman Museum has one of their pianos.  (I wonder if the signature of Arthur Sullivan is genuine?)
In the same way, Keith, Prowse & Co. still exist as theatre agents, but are unaware of pianos sold with their name on them.  By 1822, Robert William Keith was a music seller at 131, Cheapside, and may not have made the pianos that bear his name.  Keith, Prowse & Co. were there by 1832.  Breitkopf & Hartel are aware of pianos bearing their name, but have no archives, and they tell me they didn't make the pianos.  Wurlitzers inform me that they have no archive material whatsoever.  Chickering & Sons said "all of the collateral materials, photographs, etc., going back to the early days was lost sight of when the company re-located to the present address", despite the fact that the Museum of American History has a "huge" collection of Chickering records on microfilm.  Lindner's short-lived plastic and alloy pianos were only invented in the 1950s, but when they (International Piano Industries Ltd.) were placed in the hands of the Receiver in 1975, no paperwork was kept, and even these fairly modern pianos are more or less without archives or spare parts.  There seems to have been little point in offering a 70-year guarantee on their soundboards!
BOOTH & BROOKES Ltd., BURNHAM-ON-CROUCH
Booth & Brookes' foundry mark is a harp, as shown above.  In 1899, Palmer & Booth established an iron foundry, at Mildmay Ironworks.  (Picture courtesy Derek Argent.)  In 1907, the name changed to Booth & Brookes Ltd., and at a time when pianos were using increasing amounts of cast iron, Booth & Brookes rapidly became known as leading makers of iron frames for pianos, and were also the largest employers in Burnham.  The company ceased trading in 1980, and although Foundry Lane still exists, the foundry itself has been demolished.  Some of their archive material has survived, and is now kept at the Essex Record Office in Chelmsford.  A hardback volume of their drawings, surprisingly on ruled pages, seems to begin in 1911, each drawing occupying less than a quarter of a double page, as if they were leaving space for something else.  The list of firms for whom they supplied frames reads like a "Who's Who" of the piano trade, and it might be easier to say who they DIDN'T make frames for.
The person who kept the book wrote quite clearly, but was not good or consistent at spelling, so some of the names are not easy to interpret.  The shortlist that I made from the many pages includes Ajello, Alexander, Allison, Baker, Bansall, Barnes, Bell, Bentley, Boyd, Brasted, Brinsmead, British Piano Co., Broadwood, Brock, Challen, Chappell, Clarabell, Collard, Cramer, Cremona, Crowley, Danemann, Dodson, Drannek, Eavestaff, Edmond, Elysian, Forrester, Foulston, Gamble, Garratt, Garrick, Gilbert, Gladman, Godfrey, Hickey, Hilton, Hopkinson, Hulbert & Jones, Justin Browne, Kemble, Kennard, Kessels, Kirkman, Lambert, Langbein, Lohamans, Marrington, Marshall, Mignon, Monington & Weston, Morley, Mortons, Newsame, Osbert, Papps, Parker, Radinor, Ralph, Richton, Rogers, Royal Singer, Rushworth & Dreaper, Russell, Sames, Seager or Seeger, Shipman, Squire, Steck, Strohmenger, Supertone, Taylor, Triumph, Upton Gill, Vincent, Wallace, (Wallis?) Weber, Wheatland, Windover, Witton, etc..  It is interesting that the name Bentley appeared as early as 1911. 
BB on an iron frame sometimes indicates Brasted Bros. pianos, but some others may possibly be Booth & Brookes frames, although they could be Brasted pianos with B&B frames.  Hackney Archives have some of Kembles' archive information, but it is not catalogued yet.
Without donations, I will be fine, but our collection may not survive for future generations, and it may all end up on a bonfire.  If every visitor to this site made a small donation, we would have better displays for our building, and much-improved facilities for research within our own archives.  Cheques must be made out to Bill Kibby-Johnson.  Foreign cheques are subject to high bank charges, so if you are posting a donation, bills are easier to change without any of your money disappearing on charges.

ARCHIVES LOST IN WARS
These horrific views of Hamburg after the allied bombing give a chilling insight into the devastation that turned buildings into empty shells, and it is not hard to imagine what happened to people or paperwork.  War has always been an important part of history, but it is also the greatest destroyer of historical information.  The Ascherberg company is said to have been bombed out of existence during the second world war when the allies levelled Dresden.  No archives survived.  In 1944, the two Schiedmayer factories in Stuttgart suffered a similar fate, but the archives of J.& P.Schiedmayer survived.  However, it is important to realise that, in terms of names, there were ELEVEN different firms named Schiedmayer!  See our Numbers page for details…
http://www.pianohistory.info/numbers.html
Helen McGrath received a lot of help from the Ronisch company, also in Dresden, about this 1878 exhibition piano, but they tell me that their archives were destroyed in the war.  Bluthners, of Leipzig said "Dear Mr Kibby, We have unfortunately to inform you that we cannot help you with your enquiries about this instrument.  Our records were destroyed during the last war".  James Reeder confirmed this in 2004:  "Dear Bill, All records were destroyed during World War II, as well as the factory and offices, so there are no production records available."  Also lost was the first piano to broadcast on radio from an airship in flight.
The Bechstein archives have survived, and their website bechstein.com deals with enquiries, but the library of the Royal College of Music has an important set of ledgers from the firm of Bechstein, and their Centre for Performance History holds four volumes of photographs of designs for pianos, both grand and upright.  The so-called "Bechstein, London" pianos seem to have been imported in pieces, for assembly in Bournemouth rather than London, from the early 1930s.  The grands are somewhat smaller than normal Bechstein models, and seem of a cheaper quality.  Although Bechsteins had a London office, the company name "Bechstein London" was never registered, so virtually no information is available on them.  The arrangement with Berlin ceased with the outbreak of the 1939 war.
1944 diary mentions doodle-bugs (V-1 bombs).
Rita Dix, of R.C. Bishop & Son, says "all the business & papers were lost in the war".
Milliers of Weston Supermare say "all records were lost in the Blitz".
The Sunday School Union, which sold pianos called "Unex" and "The Victoria", has now become known as Christian Education, they say "Unfortunately most of the history up to 1940 was destroyed in the war when an air raid affected the premises at the time.  The library was completely gutted and the headquarters almost completely destroyed.  Details can be found in Philip Cliff's book 'The Rise and Development of the Sunday School Movement in England 1780-1980'.  What remains from that time and all our other archives are stored at Birmingham University and can be viewed there". 

Fine in theory, but Birmingham University say "We have a lot of the Sunday School Union archives.  Unfortunately, this material is not listed so we have no idea whether what you want is there.  At present we are not in position to be able to say when a listing of these archives will be available."  The Unex company in Lowestoft tell me that they have no connection with Unex pianos.
When Monington & Weston closed their factory in 1986, they very kindly donated a lot of paperwork to us, including some of their own literature, old trade directories, and old catalogues of various other makers, but can anyone tell me where their full archives are held now?  Their 1962 "Monarch" model (on the right) seems to have been outwardly identical to the Eavestaff Miniroyal Model 90, but years earlier.
Michael Lowe wandered into their premises around 1956, and was amazed to find Neil Sedaka sitting there playing a piano.  Michael kindly sent me this picture, taken from one of Neil's album covers.
On honeymoon in Jersey in 2002, we saved a trip to the Jersey Museum for a rainy day, and inspected their Priestley cottage piano, passing the Library Jersiaise as we went in.  Beth said we should check if the library had any piano information, but with uncharacteristic negativity, I said "they won't have any piano history here!"…  We were amazed to find lots of information about Jersey's piano makers and dealers going right back to the 1840s, including Fentum, who had disappeared from the London records.
BAREFOOT IN PARIS
In 2004, having failed to get anywhere on the internet trying to locate Paris history sources, we trudged around that wonderful city in 42 degrees of heat until the pavement was more comfortable without our shoes.  We were directed and re-directed to archives and likely places, but whereas most British libraries have local history books easily available for research, several of our friends in France have since confirmed that Paris doesn't know where its history is kept!  Aspects of the Cottino firm existed for over 70 years, but nobody seems to have any complete details, and we only have fragments.  Even the historic Legion d'Honneur couldn't tell us anything about piano makers who were awarded the "croix" without precise details that we didn't have, because they are not computerised, and have no cross-reference system.
Of course, British archives are not always without problems.  We went to Shrewsbury but the library staff didn't know what "Victorian directories" were, and referred us to their archives department, which was closed on the days we were there.  Undeterred, we went on to Market Harborough to visit the museum and library, but both were closed during the month we were there.  We moved along the road to Leicester Record Office, which provided interesting details of their retailers, but pianos were not mentioned specifically until the 1860s, and there was no sign of any piano makers in Leicester then.  Their extensive newspaper archives will require a much longer trip.  Later, we had a very useful trip to Liverpool, where we learned more about firms like Dreaper, Rushworth, Van Gruisen etc..
ERARD'S PARIS PREMISES
In 1781, Erard moved to 13, Rue de Mail, and a few years ago, we had a look at these ancient premises.  Large wooden gates open to reveal a driveway through the building for horse-drawn vans.  On the left was the entrance to their showroom.
Stepping through into the courtyard, the building has been altered, so the picture on your left is a reconstruction.  The interior view is from about 1840.  On your right is the entrance to their "atelier" (workshop) at 21 Rue de Mail, shown in the closed and open views.
WELLINGTON PIANO?
The Duke of Wellington owned an Erard piano, as did Nelson, Napoleon Bonaparte, Marie Antoinette, Queen Hortense, Josephine and many other (rich) historical figures of the late 1700s.  The Erard Paris archives are not available to the general public, they were locked away in an old building along with the Pleyel archives, and it suffered a fire in 2009.  Most of the archive survived, but with some fire damage.
Our friends in France had been involved in legal wrangles to try to protect these records, which are now held by the Cité de la Musique, Paris, and since 2011, they are gradually being made available online…
http://archivesmusee.citedelamusique.fr/pleyel/archives.html
The Paris archives contain some brief references to their "Maison de Londres", but Erards' London archives are a bit of a mystery, although we have some definite dates of their London serial numbers on our Numbers page... 
http://www.pianohistory.info/numbers.html
The power of the internet is that information can spread worldwide in a very short time – whether it is true or not! People often quote Rosamund Harding, whose book gives the impression that Erard was at Great Marlborough Street from 1786 to 1933 and beyond. He does seem to have visited London in 1786, but I doubt that anyone can prove he was in business then, or associated with Great Marlborough Street that early. Certainly, contrary to the impression given by Harding, my research shows that Erard is not listed in London directories for 1775, 1782, 1786, 1792 or 1794.  
When I am really bored one day, and desperate for something to do, I may go through some of these directories again, to see if their Great Marlborough Street address is mentioned under other business names.
In 1794, Erard set up the London business, his partner in the project was Paul de Neufville, thought to be the son of the Duchesse de Villeroi, who sponsored Erard's beginnings in France.  This London partnership ended in 1801.  1799 is the first entry I have been able to find for Erard in London Directories:  Sebastian Erard & Co.,  Mufical Inftrument maker,  18, Great Marlborough-ftreet.   Erards' own advertising said that the London business was established in 1808.
Erard harp ledgers in the Royal College of Music library contain some workshop notes from the period 1808-1809, where Robert Adelson noticed entries about payments being listed in the Directory.   My hopes had been raised some years ago when I read that Erards' London ledgers were stored at the Royal College of Music, but Peter Horton kindly informed me that the Erard London ledgers at the RCM are for the harp, not the piano business.
This letterhead from 1872, kindly sent by Gill Green, seems identical to the 1843 one held by Westminster City Archives. 
It was only in recent years that we tracked down where Erards' twin London factories were, in Pembroke Road, just off Warwick Road, it's the kind of information that is just sitting there on the internet waiting to be found if only one knows the magic words, and we even found plans and drawings.  (Just search for erard pembroke.)  However, the Paris archives make little reference to the making of pianos in London, and Pierre's correspondence only refers to harps.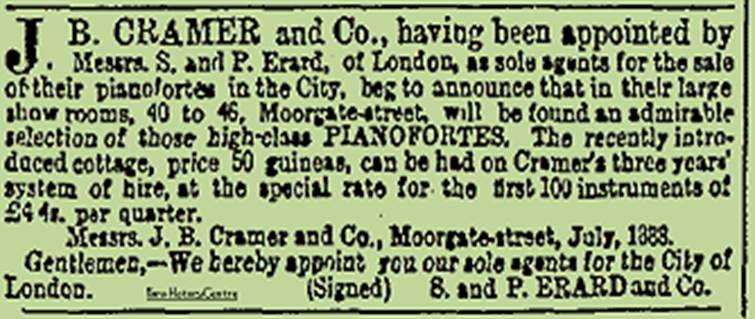 In 1888, Messrs. S. & P. Erard, London, appointed Cramer & Co. (who boasted the largest pianoforte showrooms in Europe) as their "sole agents" for the City of London, but Erards continued to advertise and sell their own pianos at 18 Great Marlborough Street.  (This is probably because "The City" is only a small area within London.)  The idea that they finished in 1890 seems to have no basis, the manufacture may possibly have been moved to Paris then, but they built new premises at 18 Great Marlborough Street in 1892, (photos are available from the Westminster City Archives) and they still gave the same address in 1933, although they are not listed in Kelly's Directory by 1936. 
The mysteries don't end there, because music publishers Robert Cocks & Co. were established in 1823, based in New Burlington Street, and around 1902, they moved to Erards' refurbished premises at 18 Great Marlborough Street.  It has been suggested that perhaps Robert Cocks may have continued with the making of Erards' London pianos, but it seems unlikely he was a real piano maker.
He was music publisher to the Queen, at New Burlington Street, but for a while, his pianos were ambiguously labelled "Pianoforte Manufacturers & Music Publishers to Her Most Gracious Majesty Queen Victoria".
Here we see that Cocks' pianos were actually made for him for 17 years by Henry Tow, not as an employee, but as "manufacturer".  Tow was gone by the 1890s, when Beadle & Langbein had taken over his address.  Sherborne also made pianos for Cocks, whose business was later taken over by successive music publishers, but they do not have his archives now.  The way things tend to go, it seems likely that the records are lost.  In 1904, Cocks & Augener were united under the name of Augener Ltd., and it is presumed that Cocks & Co. ceased to exist as such.  The firm of Erard continued to give their address as number 18 long after Augener's had bought the building, and Erard pianos continued to be manufactured - somewhere.  Modern Erard pianos are made by Schimmel, they say "We regret to have to inform you that we could not give you any information ~~~~~ The Schimmel Piano Company produced under a licensed contract upright and grands under the 3 French brands Gaveau, Erard, Pleyel as of 1971 through 1994.  We have no archives available here from before that time."  At least they had the decency to reply, some firms don't have the manners to spend a minute or two answering history enquiries that don't produce profits.
As mentioned above, the Pleyel archives do still exist, and we can also refer to a recently-published book on the subject of Pleyel.  Illustrations of the Pleyel factory are available on several websites, showing traditional methods of working by hand, but although they are described as being published in 1865 or 1870, some or all seem to be 1855 pictures. 
They were already out of date when they appeared in an 1870 publication, because by 1867, this illustration in the catalogue of the Paris Exhibition clearly shows that Pleyels had a much more advanced steam factory, with drive-belts coming down from the roof to drive machinery.
Pianogen.org paino panio pisno ponia piano history Collection
ACTIONS – ALIASES - ANCESTORS - ARCHIVES - AWARDS - BLOG - DATEMARKS –
DEMOS – DIAGRAMS – DONATIONS – DRY HEAT DAMAGE - EDWARDIAN - EXHIBITION –
FALSENESS - GENEALOGY – GEORGIAN – GRAND - HEALTH – INVENTOR - KEYS –
MEDALS - MEMORIES - NAMES – NUMBERS – OCTAVES - PIANINOS - QUERPIANOS
REPERTOIRE – SQUARES – STENCILS – TUNING – UPRIGHT - VICTORIAN – WRESTPIN TORQUE