MUSIC MENU
Tel. / Text 07969 778428
(Page updated April 2021)
ACTIONS – ALIASES - ANCESTORS - ARCHIVES - AWARDS - BLOG - DATEMARKS –
DEMOS – DIAGRAMS – DONATIONS – DRY HEAT DAMAGE - EDWARDIAN - EXHIBITION –
FALSENESS - GENEALOGY – GEORGIAN – GRAND - HEALTH – INVENTOR - KEYS –
MEDALS - MEMORIES - NAMES – NUMBERS – OCTAVES - QUERPIANOS - REPERTOIRE –
SQUARES – STENCILS – TUNING – UPRIGHT - VICTORIAN – WRESTPIN TORQUE
I'm sorry that my life has always been about sounds, and in this covid period of Zoom and podcasts, when so-called "live" music is mainly about split-screen videos, I have failed dismally when it comes to making home videos of my performances.  When I was single in the nineties, I did a blind date with a lovely lady, but when she asked what I did, and I began listing all the different things I do in music, she immediately concluded that I was lying, and without giving me any opportunity to demonstrate, she left!  People constantly ask "what kind of music do you do?" but I have no short answer, other than to say that throughout my life, I have failed to find ANYONE ANYWHERE who can do all the thing that I can do in music, so if you don't want a mixture of music, why not ask whether I can do the specific thing you want?  For half a century, I have earned my living as a musician and piano tuner, but when I lived in Norfolk, bands complained that, allowing for loading, unloading and travelling, some venues were only paying £6 per hour, which is LESS THAN THE NATIONAL MINIMUM WAGE.  When I moved to Lincolnshire 3 years ago, I found that they don't want to pay musicians at all.  I have done gigs here as a pianist, organist, keyboardist, vocalist, guitarist, banjoist and bassist, but not one of those gigs paid even the minimum wage.
Some people were baffled by all the tracks I put on my old Demos page, and they couldn't work out which instruments are being played by me (most of them!) so as an alternative, click on this link.  I am sorry that some computers will now close this window in order to play the track, this is a new development on some software which corrupts my page, but the way round it is to load copies of the page in 2 windows, one to read, the other to play the track.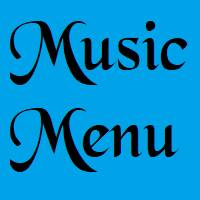 The link opens the track, which runs for over an hour if you listen to it all.  Like any menu, it will contain an odd mixture of items that will not always be to your taste, because I am a "jobbing musician", required to do all sorts of different things.  They will pass by very quickly, usually half a minute, and move on to something different, while you can read down the page for more information about what is going on in each track, and which instruments are played by me - that's usually ALL of them, except that most of the drums are electronic unless otherwise stated.  Sometimes, those are part of an electronic rhythm section, sometimes they are drum parts that I have written on computer.  Many of these recordings are old, or not studio quality, so they don't always reflect the sound quality I have available now, but they demonstrate my playing.  For copyright reasons, many tracks are improvisations rather than the actual tunes.
HAPPY BIRTHDAY - 1893
This may seem an odd choice to start off with, but people often ask for it, so it is easy to find.

DON'T THINK TWICE - 1962
In this Bob Dylan song, I sing with a selection of fretboard instruments played by me, including guitar, bass, banjo, bouzouki and mandolin.  Most of the other tracks below are in alphabetical order.
AIR ON THE G STRING
My piano arrangement of the Bach piece, thought to date from about 1750.
ALEXANDER'S RAGTIME BAND - 1911
My solo piano arrangement.  Surprisingly, most jazz bands don't play this in ragtime rhythm, and neither do I… yet.
ALMOST LIKE BEING IN LOVE - 1946
This is one of my favourite songs, very upbeat and positive, written when I was little more than a twinkle in Mum's eye, but this recording dates back to when I was a teenager, crudely multitracking guitars on a tape recorder with tin foil over the erase head.  Inspired by Les Paul.  My Dad hand-wound the pickup for my first guitar, shown above.
AMAZING GRACE - 1838
This improvisation is based on the hymn, but it irritates me that people feel the need to change the rhythm to this 4/4 or 16-beat arrangement, when it has survived perfectly well as a waltz since 1838.  Kevin West can be heard playing guitar in the background, Tony Jullings on bass.
ARETHUSA - 1760
A favourite at prom concerts, I decided to use military-style drumming with 6 snare drums, but it's no good just recording identical parts 6 times, each has slight variations, and the drum is tuned to slightly different tensions, the sounds being placed at different positions left to right, and with different tone settings and degrees of reverberation added, to give a bigger sound.  The rest is keyboards.
ARRIVIDERCI ROMA - 1956
One of a number of Italian tunes that I play on mandolin, with pre-recorded backings, mainly keyboards.
ATOM WAR
It's that little schoolboy Bill, multitracking guitars and adding simple sound effects to my tune.
AUTUMN LEAVES - 1950
This is the most requested song of over two thousand on my list, yet it's from the almost-unknown film "Hey boy! Hey girl!".  Here are 3 versions, the first is me playing guitar with pre-recorded keyboard and electronic rhythm section.  In the 2nd track, I sing part of the same arrangement, but in the echoic Great Yarmouth Minster.  Thirdly, I play an electric piano solo with a jazz trio.
BABY I LOVE YOU - 1964
My solo piano arrangement of the song.
BANJO BILL - 1921
This appropriately-named number features me on banjo, with pre-recorded keyboards in the backing.
BANJO BLUES
I got bored in a break at a garden centre gig.
BASS SOLO
Bass guitar solo in a 12-bar swing blues.  Some jazz bands won't have me play bass guitar, because they want a stand-up bass, so I looked at paying £800 for something that look like a bit of 4x2 with strings on it, then I made the bass shown on your right.
BLACK EYES
This traditional Russian Jewish song was jazzed up in the twenties as "Dark eyes" but the original title translates as "Black eyes".  First, there is a keyboard intro for it, then a pipe organ improvisation.  Both are in 6/4 time, as they are Russian versions. I started off playing it on balalaika, but it sounds better on bouzouki.
BLUE JEAN BLUES - 1956
Here, I sing and play rock guitar sounds with a pre-recorded keyboard backing.
BLUE MONK - 1963
When I was growing up, my cousin Jean McEwan was a great fan of the jazz pianist Thelonius Monk, and she did this etching of him.  I never heard him, but over the years, various jazz bands have asked me to join in with "Blue Monk", and I decided to play it as a guitar solo.  This guitar is technically "ambiphonic", producing an acoustic sound on one channel, and electric on the other, so if you hear it on good quality stereo, it almost sounds like a duet.
BLUES GUITARS
A small sample of the stuff that seems to insist on playing itself whenever I pick up a guitar, then a duet between acoustic and electric guitars and bass, all played by me.
BUONA NOTTE - 1953
When I played mandolin for an Italian restaurant, I included "Buona notte" and "Bella notte".  The first was the end theme from Max Bygraves' TV show, and the second (not here) was the more famous song from "Lady and the tramp", associated with that image of dogs eating spaghetti.  I asked the restaurateur which phrase was correct Italian for "good night", he said that "Bella note" means "you look beautiful tonight".  Obviously the songwriters didn't know.
BOUM! - 1939
One of the tracks from a medley of French quicksteps that I played on keyboard for the twinning association when French visitors came over from Rambouillet.
BUS STOP - 1966
Nothing to do with Carol Vorderman, this is my piano arrangement of the Hollies song.
CALL ME IRRESPONSIBLE - 1962
My piano arrangement.  I used to know a jazz player who used this tune as a test of musicianship.
CANDYMAN - 1964
My piano arrangement of the 1964 song from "Willy Wonka".
CARNIVAL TIME - 1966
Based on Schumann's "Black Orpheus", it was also sung as "A day in the life of a fool", but I sing it with guitar as "Carnival time", which I heard on a Cliff Richard album in 1966.
CATARI, CATARI - 1911
An Italian opera theme by Salvatore Cardillo that I play on mandolin, with keyboard backing.
CERTAIN SMILE (A) - 1958
My piano arrangement of the song from the film of the same name.
C'EST MAGNIFIQUE - 1954
I play guitar with pre-recorded keyboards, one of several French jazz guitar tunes I do.
C'EST SI BON - 1947
Again, I play guitar with pre-recorded keyboards. Written in the year I was born.
CHARIOTS OF FIRE - 1981
I don't know why it is that when people hear me playing relaxing piano for restaurants and hotels, they sometimes have to check that there is a real pianist playing this particular tune, rather than a CD.  The manager said "Bill, can you play some wrong notes so that people who can't see you know you're a real pianist?" !!  I obliged by imitating Eric Morecambe's version of "Honeysuckle Rose".
CHRISTMAS MARCH
I wrote this in the sixties, and in the eighties I did the multitrack recording of it.  Every sound is from the child-sized Yamaha keyboard shown above.
CLOSEST THING TO CRAZY - 1996
One of those rare modern songs with a strong melody, this Katie Melua one has a slightly unusual timing.
C MINOR WALTZ
One of my piano compositions.
COME ON!
A single keyboard track intended as a backing for rock guitar.
COME RAIN OR COME SHINE - 1946
I sing this Sinatra favourite and also play guitar over my pre-recorded keyboards.
COP-OUT
A free improvisation based on electronic drums that I pre-programmed, with recorded piano, bass, brass and strings sounds, in the style of a TV detective theme.
COUNTERSAIL
A counterpoint composition, part recorded, and part written on computer.  It reminds me of those little tunes that introduce TV news.
DANNY BOY - 1914
An opportunity to demonstrate how full a sound can be achieved by just one keyboard with layers of orchestral sounds, notably harp and strings.  Based on "Londonderry Air", 1855, but with less doomy lyrics.
Without donations, I will be fine, but our collection may not survive for future generations, and it may all end up on a bonfire.  If every visitor to this site made a small donation, we would have better displays for our building, and much-improved facilities for research within our own archives.  Cheques must be made out to Bill Kibby-Johnson.  Foreign cheques are subject to high bank charges, so if you are posting a donation, bills are easier to change without any of your money disappearing on charges.
DAYBREAK
Part of one of my compositions, in which the day has just started to wake up and get busy.
DAYDREAM BELIEVER - 1968
When I am playing piano for restaurants, this Monkees song almost guarantees to get an audience reaction, ranging from tapping the feet or fingers, to mouthing the lyrics or whistling along.
DEAD OR ALIVE - 1956
I sing this Lonnie Donnegan song, with just my banjo for accompaniment.
DEEP PURPLE - 1939
I play this song on Hammond organ.
DISTANT DRUMS - 1966
I sing this Jim Reeves song with guitar.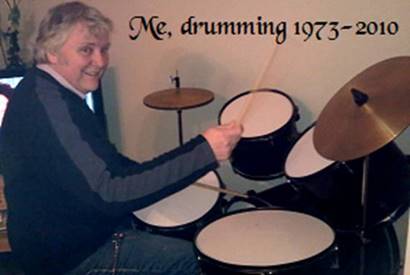 DRUMMIN'
First, here is the drum break I played in a 1972 recording, demonstrating that I was a fairly average drummer.  I have improved, but tend to leave drums to someone else unless they are desperate!  Next, I wrote this drum beat on computer for the particular type of rhythm used for things like "Bo Diddley", "Not fade away" or "Swamp thing".
DUET FOR SARAH - 1982
When my daughter was very small, she seemed to have made up a little bit of tune that she kept singing, and that was the basis of this piano piece. It is recorded as a duet in which I play both pianos.
DUOS WITH SINGERS
I have played in duos with various female singers over the years, here are a few, starting with my wife Beth singing Reg Bowler's 1994 song "Thank you for being my saviour" to my keyboard.  Kay singing "Hallelujah I love him so" to my piano.  Holly Carter singing her song "Movin' on" with me on guitar and keyboards.  Kim Carter "If you love me" to my guitar and keyboards.  Laurie Atkins "Flying blind" with my keyboard.  Sarah Castle "Every time we say goodbye" with my keyboard.  Kay "Ventura highway" multi-tracked her vocals with my guitar, bass and keyboards.  Kim Carter "The rose" with my keyboard and guitar.  Laurie Atkins "Song for Ireland" with my keyboard.  Sarah Castle "Someone to watch over me" with my keyboard.  Kay singing "In other words", with brass and string sounds from my keyboards, plus guitar.  (It's NOT called "Fly me to the moon".)
ENTERTAINER (THE) - 1902
Scott Joplin's popular piano piece.
FIFTIES MEDLEY
Part of a backing track with bass and drums a medley of songs that were around in the late fifties, using the same chord sequence, but the source of the backing is perhaps surprising.  I programmed the Yamaha keyboard sounds years ago with a little Sinclair Spectrum computer.  Being a programme, it can repeat indefinitely, with variations that make it seem a little different each time round.  Clive Sinclair sneaked this amazing feature into his humble machine, and on my long list of music projects, I want to get the Sinclair running again so I can make better recordings of it.
FINGERSTYLE
A little illustration of the warmth of a fingerstyle guitar.
FLAT 12
My piano composition uses a lot of flattened twelfth chords, hence the title.
FOGGY DAY - 1937
My piano arrangement of the Gershwin song.
FORGOTTEN DREAMS - 1957
It used to be that when I called to tune so many pianos, and shifted the sheet music off the top, I would usually find this piece among them.  The track also demonstrates the ignorance of people who shout across the piano, destroy the mood of the music, and disturb the audience, rather than finding a quieter place to speak.  Some people can't grasp the idea that musicians need to hear what they are doing.
FREAKY
I play some far-out guitar with electronic drums and bass.
FREE & EASY - 1964
First, one of those schoolboy guitar multi-tracks, a tune I wrote and arranged.  Then, a multi-track version of it, done in the eighties on that tiny keyboard I mentioned before, and a guitar.
FUNKY
Guitar improvisation with keyboards that I pre-recorded.
GOD BLESS THE CHILD - 1941
My solo piano arrangement of the song.
GOOD DAY
I double-tracked my song in the seventies, and played drums, bass and organ.  That top F was unwise.
HAMMOND BLUES
Jazz swing blues played on Hammond organ with its built-in drum beat.  The bass is me playing pedals.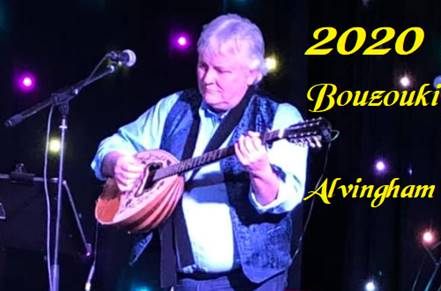 HARRY LIME THEME - 1949
A tune I like to play on bouzouki with a ragtime feel, and pre-recorded backing piano and keyboards.
HAVE YOU MET MISS JONES? - 1940
The fake vibes right-hand on this song allows you to hear clearly what an electronic rhythm section can do, operated by my left hand.
HOLLY & THE IVY - 1710
I play this on pipe organ.
HUSH-A-BYE - 1952
I play this little-known tune from "The jazz singer" on bouzouki, with keyboards pre-recorded.
I CAN'T GET STARTED - 1936
First, I sing the song with guitar, then the second version demonstrates the fuller sound of keyboard accompaniment.
IF YOU GO AWAY - 1974
Guitar and keyboards.

I'LL SEE YOU IN MY DREAMS - 1925
My dad, Bert Kibby, was the best banjoist I ever heard, and at his funeral, I played this on his battered old banjo, and the whole congregation burst into tears.  Its skin is still signed 1922.
IT COULD HAPPEN TO YOU - 1944
More of my echoic singing in the Great Yarmouth Minster, I played piano for this song.
IT'S SIN TO TELL A LIE - 1936
My piano improvisation on the song, with a jazz quartet.
I'VE FOUND A NEW BABY - 1926
My piano improvisation on the song, with a jazz trio.
I WILL WAIT FOR YOU - 1964
I play bouzouki with pre-recorded keyboards for this song.
I WISH YOU LOVE - 1942
Sometimes, it's very restful to hear a guitar solo, with no rhythm or accompaniment.
JAM BUTTY - 1972
I played 12-string guitar on this recording, as well as piano, bass, and I also played the drums, but you probably can't hear them in this cut.
JEANNIE WITH THE LIGHT BROWN HAIR - 1854
Some people think of this as a Bing Crosby song, but it was written by Stephen Collins Foster way back in 1854.
JUST ONE OF THOSE THINGS - 1941
My piano arrangement of the song.
KANSAS CITY - 1946
As I sing and play this, amid all my fake saxes, there are occasional glimpses of Barrie Brown's real sax, and my electronic rhythm section.
KERONAISE
This whole sound is just me on my old Roland keyboard, and forms a powerful background for rock guitar sounds.
KISS ME AGAIN - 1906
I played this on pipe organ.
KNOCKING ON HEAVEN'S DOOR - 1973
All these sounds were from a Yamaha keyboard, written on a Sinclair computer, part of a backing for the Dylan song, for which I usually sing and play guitar.
LATIN EYES
My improvisation, in which I play electric piano, organ, guitar and bass.  I latinised the title.
LA VIEN ROSE - 1946
French jazz on guitar, and I pre-recorded the keyboard.
LEANING ON A LAMP-POST - 1937
I play banjo with pre-programmed backing to this George Formby tune, but as my Dad would say, George didn't play a "proper" banjo!
LET'S DO IT - 1929
I play bouzouki in this ragtime arrangement of the song with piano.
LET THE REST OF THE WORLD GO BY - 1919
I play piano on this, not a theme for chinavirus, but a song from just after the First World War.
LIFE'S UNFAIR
My solo piano composition.
LITTLE TOWN OF BETHLEHEM - 1868
I played it on pipe organ.
LOG JAM
The tiny Yamaha keyboard again, multi-tracked to the power of 10.  (Log?)
LONESOME ROAD - 1927
My piano with jazz quartet on this song.
LOSING YOU - 1963
My guitar break with keyboards that I pre-recorded for the song.
LOVE AT MY HEART - 1843
My arrangement of an M.W.Balfe composition, part of my Balfe medley.  Balfe is well-known for having the same initials as the Metropolitan Water Board.
LOVEFOOL - 1999
A livelier modern melody.
LOVE ME TENDER - 1956
I sang this Elvis number with guitar, but I don't do impressions.
LOVE POTION NUMBER NINE - 1959
Part of a keyboard backing I recorded to use with vocal and guitar.
LOVER MAN - 1942
My solo guitar arrangement.
LULLABY OF BIRDLAND - 1952
My solo piano arrangement.
MAD MYFANWE
This track is to demonstrate why I am rarely seen in public playing a fiddle.  The song was inspired by an ex-girlfriend.  Also features my guitar, banjo and fake flute.
MAD WORLD - 1982
Part of a keyboard arrangement.
MEAN TO ME - 1929
I was so pleased with my piano solo arrangement of this song, then someone said I had played a completely different song - that I don't even know!  He was mean to me.
MINE ARE BLUE
The title "Minor Blues" was already taken when I did my jazz improvisation on piano, organ, guitar and bass.  Really, my Mum always said my eyes are a "dirty browny greeny colour".
MOOD INDIGO - 1931
My piano improvisation with jazz trio.
MOOD SWING BLUES
I played this on Hammond organ.
MOONLIGHT IN VERMONT - 1950
Not the best recording of my stereo guitar.  It is a Japanese copy of a Gibson Les Paul model, but when I found it in a junk shop, it was in pieces.  The fretboard was hopeless, so I spent hours making it almost play itself.  And it has 2 stereo outputs, plus an acoustic pickup.
MOVIN' ON
My guitar solo on Holly Carter's song, for which I also played keyboards.
MY BONNIE – Pre-1865
Already well-known by 1865, I usually play this on banjo, with these pre-programmed keyboards and a bit of surf.
MY FAVOURITE THINGS - 1961
My piano arrangement of the song, influenced by Peter Nero's version.
NAGASAKI - 1928
Nowadays, we tend to associate the city with the H bomb, but back in the twenties it was a fun place where sailors pulled into port for a good time, smoked whacky backy, and did something called "Nicky nacky noo", can't imagine what that would be?  This ragtime piano and brass sounds capture some of the mood of the period, as a backing for bouzouki.
NESSUN DORMA - 1924
A Puccini opera theme that I play on mandolin, with keyboards pre-recorded.  The night before I did an Italian night in an Italian restaurant, the manager asked me to include "Nessun dorma".  Being before the internet, I had no choice but to rely on my memory of Mum's record of Harry Secombe in order to record the backing.
NEVER SMILE AT A CROCODILE - 1953
Piano, sound effects and other keyboard sounds as a backing for my bouzouki.
NUAGES - 1940
My arrangement of Django Reinhardt's tune, which I played on guitar with keyboard pre-recorded.
O HOLY NIGHT - 1949
I slipped this in on keyboard to fill a space in a carol concert.
OLD MAN RIVER - 1928
My solo piano arrangement.  I tried to play the melody as low as I could, but it's not quite in the Paul Robeson range.
OLD SHOES - 1958
This Frankie Laine number is one of my favourites, I sing it with guitar.
ONCE IN ROYAL DAVID'S CITY - 1848
I played this on pipe organ.
ONE ALONE - 1925
Orchestral-style multi-keyboard intro for use with a mandolin.
ONE DAY I'LL FLY AWAY - 1980
My piano arrangement.
ONLY SIXTEEN - 1959
I sang this with guitar.
OOM PAH-PAH - 1960
Part of an imitation of a fairground organ, mainly recorded in 2 parts, then "exploded" into several parts by computer.
ORGAN IMPROVISATIONS
My improvisations on Hammond organ, with guitar, bass and piano.
O SOLE MIO - 1898
I play mandolin with keyboard backing.
OVER THE RAINBOW - 1939
My piano arrangement tries to capture more of the feel of the thirties in this famous, very popular song, which has been so mutilated and over-simplified in modern times.
PIANO TIMES
First, my piano improvisation with a jazz quartet, then "Piano times", a multitrack where I play piano, organ, bass and guitar.
POOR MR PUGH
Old recording of a contrapuntal intro for one of my old songs from the sixties, I played drums.
PRAISE MY SOUL THE KING OF HEAVEN - 1880
I played it on pipe organ.
PREACHER (THE) - 1955
My piano improvisation with a jazz trio.
PROPER THING TO DO (The)
Piano arrangement of my seventies song about a young man worrying over whether it was acceptable to speak to a certain young lady.
RAINDROPS
A modern-style keyboard backing used as a backing for rock guitar improvisation.
RETIREMENT BLUES
I played this on Hammond organ when I reached 65.
RHODES BLUES
I play electric piano, guitar, keyboard and bass.
ROAD TO HELL - 1989
A jazz keyboard version of Chris Rea's song, used as backing for jazz guitar.
ROCK GUITAR
My rock guitar playing in 4 different extracts, usually with keyboards.
O COME ALL YE FAITHFUL - 1740
I played it on pipe organ.
ROSE OF TRALEE - 1845
My banjo playing backed by pre-programmed keyboards.
SOMEBODY LOVES ME - 1924
This song seems to lend itself to my piano style without slowing me down, so it's livelier than my usual relaxing piano.
SPANISH GUITAR
Another little improvisation on Spanish guitar.
THREE COINS IN A FOUNTAIN - 1954
I played it on mandolin, with pre-recorded keyboards.  The Trevi fountain is in Rome, but the song was American, by Sammy Cahn.
TWELVE DAYS OF CHRISTMAS - 1780
Not much sign of us on this phone recording when Beth and I did one of our usual Christmas carol sessions.  I have never known a whole pub full of people so enthusiastic about this song.
YOU RAISE ME UP - 2003
On pipe organ, a modern song with a strong melody, and a message which some people think Josh Groban intended to be spiritual.
LIVING IN A LOW KEY
One of my piano compositions, again a sad title, but I'm told it sounds cheerful and calming to people who don't know the words.
I WONDER WHAT THEY SAY ABOUT ME?
An appropriate end to this demo, my song with guitar expresses a certain curiosity about people's reactions.
If you are a multi-instrumentalist anywhere near Lincolnshire, I would be interested to hear from you.  Tel./text 07969 77828 or…
Pianogen.org panio paino pisno pinao piano history collection
ACTIONS – ALIASES - ANCESTORS - ARCHIVES - AWARDS - BLOG - DATEMARKS –
DEMOS – DIAGRAMS – DONATIONS – DRY HEAT DAMAGE - EDWARDIAN - EXHIBITION –
FALSENESS - GENEALOGY – GEORGIAN – GRAND - HEALTH – INVENTOR - KEYS –
MEDALS - MEMORIES - NAMES – NUMBERS – OCTAVES - QUERPIANOS - REPERTOIRE –
SQUARES – STENCILS – TUNING – UPRIGHT - VICTORIAN – WRESTPIN TORQUE